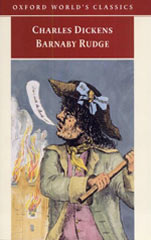 Barnaby Rudge, by Charles Dickens
Edited by Jon Mee, Iain McCalman and Clive Hurst
'What dark history is this?' This is the question that hangs over Dickens's brooding novel of mayhem and murder in the eighteenth century. Set in London at the time of the anti-Catholic Gordon Riots, Barnaby Rudge tells a story of individuals caught up in the mindless violence of the mob.
Lord George Gordon's dangerous appeal to old religious prejudices is interwoven with the murder mystery surrounding the father of the simple-minded Barnaby. The discovery of the murderer and his involvement in the riots put Barnaby's life in jeopardy.
Culminating in the terrifying destruction of Newgate prison by the rampaging hordes, the descriptions of the riots are among Dickens's most powerful. Written at a time of social unrest in Victorian Britain, Barnaby Rudge explores the relationship between repression and liberation in private and public life.
It looks forward to the dark complexities of Dickens's later novels, whose characters also seek refuge from a chaotic and unstable world.
Publisher: Oxford University Press (1 Sep 2003)
ISBN: 9780192840561
Pages: 752
Buy it online
Australia: Angus & Robertson | Fishpond
UK: OUP
USA: Amazon | Barnes & Noble