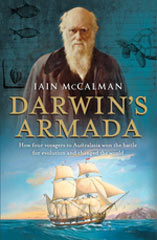 Darwin's Armada
Darwin's Armada is both a gripping adventure story and a brilliantly enlightening work of history, for the first time portraying the Darwinian revolution as a collective enterprise forged in Australasia.
These four remarkable men did what one alone could not – combed the world for evidence of evolution by natural selection, and then fought tirelessly in the social and intellectual battle that followed its famous publication 150 years ago.
Together they changed the world.
Excerpt
"Finding a jungle cock gave Wallace a chance to do a favour for the celebrated naturalist Charles Darwin, who had in 1855 sent him and other collectors a letter asking if they could provide samples of foreign domestic birds for experiments he was undertaking in selective breeding. Wallace did not know that Darwin's experiments were aimed at showing how selective breeding altered domestic bird species in the same way that nature's evolutionary processes originated new wild species.
The obscure young collector was of course flattered to be asked, even though Darwin got his name slightly wrong. He sent Darwin a domestic duck from Bali and a wild jungle fowl from Lombok. Wallace didn't yet feel confi dent to tell the great naturalist that he believed he'd discovered a key natural boundary – the geographical line that marked the division between the faunal regions of Asia and Australia."
Reviews
Books Briefly Noted, The New Yorker, 7 September 2009
Though these stories have been told before, McCalman's central conceit—that the four naturalists, who all travelled at length in the Southern Hemisphere, share "a special bond of the 'salt' "—supplies a fresh, antipodean perspective. McCalman evokes the physical hardships and social intricacies navigated by his heroes—flammable ships, uncoöperative captains, and, on Antarctica, "legions" of penguins so dense they could be breached only by "kicking them to right and left"—and also the feel of an era when "adventure and science went hand in hand." Read more
Steven Rose, The Guardian, 9 May 2009
Charles Darwin's bicentenary has generated such an armada of books, conferences and TV programmes that it may be hard to find anything new to say. Nonetheless, Iain McCalman, an Australian cultural historian, has made a brave try … McCalman knows he is an outsider to mainstream Darwin studies, but he tells his story well. It reads as a combination of Boy's Own travellers' tales stretching from the Amazon to Antarctica, and a scientific adventure as racy as any historical novel. Read more
Keith Dudhnath, The Bookbag, April 2009
Judged strictly on its own merits, Darwin's Armada is well worth taking a look at. For anyone looking for a gentle read, but with some substance, it's a great choice. It's more historical travelogue, rather than popular science – Iain McCalman's writing has a lyrical quality to it that makes it particularly easy to read. It will really appeal to people who tend to steer clear of non-fiction, but feel they ought to know a bit more about Charles Darwin. If you let your mind wander for a couple of pages, you would be forgiven for thinking you were reading a historical novel. Read more
Dugald Jellie, Cosmos, April 2009
Reading this book is a joy. McCalman has a wordsmith's knack of finding specific moments that were important to the process of historical enquiry and then furnishing them with marvellous powers of description. He also has ample dry wit. Read more
Awards
2009 Western Australian Premier's Book Prize for Non-Fiction
The judges said, "An absolutely superb achievement — rigorously researched, elegantly constructed and narrated with flair, wit and wonder. McCalman brings to vivid life one of the greatest scientific achievements and controversies".
Buy it online
Australia: Readings | ABC Shop | Angus & Robertson | Booktopia | Dymocks
UK: Guardian Bookshop | Amazon
US: Amazon | Barnes & Noble