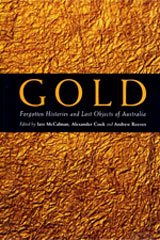 Gold: Forgotten Histories and Lost Objects of Australia
Edited by Iain McCalman, Alexander Cook and Andrew Reeves
Throughout history, gold has been the stuff of legends, fortunes, conflict and change.
The discovery of gold in Australia 150 years ago precipitated enormous developments in the newly settled land. Immigrants flooded in from Asia and Europe, and the population and economy boomed in spontaneous cities.
The effects on both the environment and indigenous Aboriginal peoples have been profound and lasting. In the most unexpected ways, gold has shaped modern Australia.
In this book, first published in 2001, a team of Australia's most prominent historians and curators have collaborated to produce a cultural history of gold and its impact on the development of Australian society. Like a handful of tailings, Gold brings together a collection of stories that have been left out of standard Australian histories.
In between runs a critical analysis of the relationship between gold and social change, race relations, gender, the environment, entertainment and industry.
Publisher: Cambridge University Press (July 2001)
ISBN: 9780521805957
Pages: 358
Buy it online
Australia: Angus & Robertson | Booktopia
UK: Amazon | CUP
USA: Amazon | Barnes & Noble