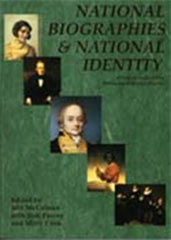 National Biographies and National Identity: a critical approach to theory and editorial practice
Edited by Iain McCalman, Jodi Parvey & Misty Cook
This book presents a collection of papers presented at a conference which debated current and future trends in the shaping of national biographical dictionaries.
Under the title of, "National Biographies and National Identity : A Critical Approach to Theory and Editorial Practice", this conference was held at the National Library of Australia in February 1995 under the joint auspices of the HRC and other related institutions.
The aim of the conference was to explore the literary and historical character of the genre as a whole, as well as to compare a variety of its modern manifestations.
Publisher: ANU Humanities Research Centre (1996)
Order it online