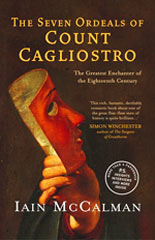 The Seven Ordeals of Count Cagliostro
Guiseppe Balsamo, the Count of Cagliostro, was an 18th-century Sicilian who became a magician, a mystic, a healer, a Freemason, swindler and, last but not least, a pornographer.
He was famous throughout Europe, and so popular in France that his imprisonment for allegedly stealing a diamond necklace from Marie Antoinette fanned the flames of revolution … The Count was so controversial that he became the central figure in both Goethe's Faust, Part One and Mozart's The Magic Flute.
The Count's story is told through the eyes of seven of his contemporaries, including Casanova, Goethe and Catherine the Great.
Australian Publisher: HarperCollins Publishers Australia
Title: The Seven Ordeals of Count Cagliostro : The Greatest Enchanter of the Eighteenth Century
ISBN: 9780732273989
ISBN-10: 0732273986
UK Publisher: Arrow; New edition edition (6 May 2004)
Title: The Seven Ordeals Of Count Cagliostro
ISBN-10: 0099441462
ISBN-13: 978-0099441465
US Publisher: HarperCollins, 2004
Title: The Last Alchemist: Count Cagliostro, Master of Magic in the Age of Reason
ISBN: 0060006919, 9780060006914
Length: 288 pages
Buy it online
Australia: Angus & Robertson | Booktopia
UK: Amazon | Guardian Bookshop
USA: Amazon | Barnes & Noble